About the Director
Director
Shinobu KASAGAWA
Born January 1953
Greetings. My name is Shinobu Kasagawa, and I am the director.
Our clinic was founded in 1958 by the previous director.
I took over from him in 1993, and have been working on treating our local community here at the Seisei Clinic.
In particular, we offer a wide range of treatment for diabetes and other diseases, ranging from dietary methods to starting insulin usage. If you have concerns about any lifestyle diseases, please come and pay us a visit.
Our entire staff will treat you kindly and respectfully.
Brief Background
March 1983

Graduated from St. Marianna University School of Medicine
April 1983

Enrolled in the Department of Internal Medicine No. 3 (now the Department of Internal Medicine, Division of Metabolism and Endocrinology)
May 1993

Appointed Deputy Director, Seisei Clinic
January 2001

Appointed Director
Qualifications, Memberships, etc.
Doctor of Medicine (MD)
Fellow of the Japanese Society of Internal Medicine
Member of the Japan Medical Association (certified occupational physician)
Member of the Japan Diabetes Society
Treatment guidance physician, Japanese Association for Diabetes Education and Care
Address
Seisei Clinic,
Seiseikai Medical Corporation
5-10-22 Nishi-Koiwa, Edgogawa-ku, Tokyo 133-0057
Ph.: 03-3657-6151 / Fax: 03-3650-1754
How to Get Here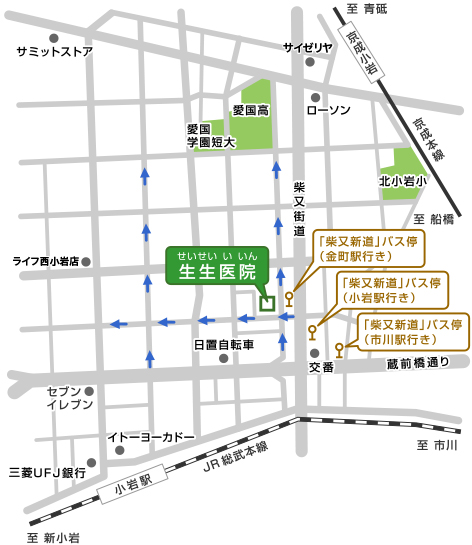 By train
Approx. 8 mins walk from Koiwa Station on the JR Sobu Line.
Approx. 10 mins walk from Keisei Koiwa Station on the Keisei Main Line.
 By bus
Approx. 1 min walk from Shibamata Shindo bus stop on the bus bound for Kanamachi Station.
Approx. 2 mins walk from Shibamata Shindo bus stop on the bus bound for Koiwa Station.
Approx. 4 mins walk from Shibamata Shindo bus stop on the bus bound for Ichikawa Station.
 By car
Right by the Shibamata Shindoguchi intersection of Kuramaebashi and Shibamata Kaido roads.
* Seisei Clinic has private parking for four cars in front.
* The blue arrows on the map denote one-way streets.
 Click here to print.
About Our Clinic
- Introduction
For sixty years since we opened at Koiwa Station, we have been providing community-based healthcare. Our friendly staff is ready to welcome you.
Our Fields
Internal medicine, pediatric medicine
Consulting Hours
Mon
Tue
Wed
Thu
Fri
Sat
Sun

9:00-12:00


(Reception closes at 11:45)
○
○
○
-
○
○
-

15:30-19:00


(Reception closes at 18:45)
○
○
○
-
○
-
-